by Monica Ong
The following was originally published on July 3 on tricycle.org as an audio poem read by poets Monica Ong and Randall Horton. Monica is a professional poet as well as an SGI-USA member.
I wrote "Yellow Insomnia" during my own relapse of sleeplessness shortly after the murder of George Floyd. Written for two voices, the poem meditates on shared suffering and shared mission, particularly through the lens of Asian and Black solidarity. While writing, I kept hearing poet Randall Horton's voice in my head. His friendship and mentorship always meant a great deal to me, and I'm honored to collaborate with him on this audio poem as an act of allyship.
While mixing the audio, I sought to "braid" our voices with the sound of fire, which invokes both collective ritual and the intimacy of the fireside, to create an immersive memoriam that kindles a sense of rebirth. [To listen to the audio reading, follow the QR code below. Audio file: courtesy of tricycle.org.]
As a Nichiren Buddhist who practices side by side with BIPOC [Black, Indigenous and people of color] and LGBTQIA Buddhists in the Soka Gakkai International community, my focus is on building bridges of dialogue in society, which entails standing up for others and cultivating the courage to live as one of the demon daughters who appear in the Lotus Sutra as protectors who have taken a vow to shield and guard the dignity of human life. SGI President Daisaku Ikeda states that "unless we can … perceive our fellow human beings and feel their sufferings as our own, we will never be free of conflict and war. In other words, a transformation within our own lives is important" (daisakuikeda.org and Buddhism Day by Day, p. 120)
• • •
"All sentient beings have at one time been your mother."—Buddhist proverb
Yellow insomnia is the hiss of midnight over another city in flames, a white knee on the Black throat of a father shattered, who was, in another life, my father, your father, your father's father, this heart (of our country) ground into the ground.
Our shared hurt a constant waking. It is the inability to zoom out and distinguish the wound from the body, the body from the wound. Yellow insomnia is the knowing of being watched by eyes that never learned to see us whole.
Walking in skin singed by a weak man's projection of peril. His monsters and mistresses take on the shape of your face, the movement of your hands, your body a shadow beneath this hallucination of America, slowly dying.
How to unmake this deadly gaze?
When will our love for you be sharp enough to sever the roots of the venomous vine? What is this life if not to honor yours, your daughter's, your daughter's daughter?
Despite the drowse of grief, the night brain swells with uncontrolled blossoms of milk thistle and tansy, my troubled questions dotted with their sprawling lace border of blooming yarrow. The way a broken branch when touching soil manages to press its young green fingers into a new hope.
Years before aunt Juanita died, I remember her examining me in grandmother's temple from her metal chair, her eyes searching me in prophecy. There are two demon daughters standing inside you, one at each shoulder, she said.
Now is a door that refuses to close. The black tiger and the golden lion are terrifying or majestic depending on one's faith.
---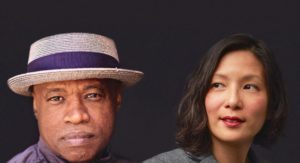 SGI-USA member Monica Ong is a multimedia poet, the user experience designer at the Yale Digital Humanities Lab, author of Silent Anatomies and winner of the Kore Press First Book Award in poetry.
Randall Horton is a poet and associate professor of English at the University of New Haven. His new collection of poems is forthcoming from the University Press of Kentucky this fall.
You are reading {{ meterCount }} of {{ meterMax }} free premium articles
Subscribe for unlimited access