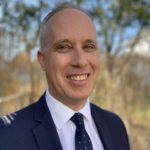 The Ikeda Center for Peace, Learning, and Dialogue in Cambridge, Massachusetts, introduces its new executive director, Kevin Maher. He succeeds Virginia Benson, who has served as the executive director for 19 of the center's 27 years and will become the senior executive advisor. Mr. Maher has worked at the institute since 2002 and resides just outside Boston with his wife and two daughters.
On behalf of the Ikeda Center board, president Yoshiki Tanigawa announced the leadership appointments in November. Daisaku Ikeda founded the center in 1993, when he visited Boston for his second lecture at Harvard University, "Mahayana Buddhism and 21st Century Civilization." The Ikeda Center's mission is to build cultures of peace through learning and dialogue inspired by the Buddhist humanism Mr. Ikeda outlined in his lecture.
Among its more recent programs is the popular youth-led gathering Dialogue Nights. Since April, the center has been hosting "virtual" dialogues, which are attracting a large international audience.
"Toward our 30th anniversary in 2023, I am determined to re-double my efforts to engage in open-hearted dialogue with like-minded scholars
and youth leaders in a shared vision for peace and global harmony!" Mr. Maher said.
With dynamic energy, fresh ideas and a new generation of leaders, the Ikeda Center advances to 2023, enacting the poetic spirit of its founding motto from Mr. Ikeda: "Be the heart of a network of global citizens. Be a bridge for dialogue between civilizations. Be a beacon lighting the way to a century of life."
—Adapted from a statement by the Ikeda Center
You are reading {{ meterCount }} of {{ meterMax }} free premium articles
Subscribe for unlimited access