Amid the balmy breezes in Florida and the snowy climes in Alaska, chapters across the nation are holding kickoff s this month to make a powerful start to the Year of Advancement and Capable People, with our shared vision of welcoming 6,000 new young people to the practice in 2020.
In The New Human Revolution, SGI President Ikeda writes of the significance of the chapter in all endeavors:
In the Soka Gakkai … a chapter is not just an outpost. In my opinion, for the area encompassed by the chapter and the people practicing Buddhism there, it has the same responsibility and mission as the headquarters. From the perspective of our organization on a national scale, the Soka Gakkai headquarters may be the central hub, but I hope that each of you will strive to establish and develop Buddhism in your respective communities thinking of the chapter as the headquarters in your area. (vol. 26, p. 299)
How many determined young people do we want to develop by Oct. 2, the 60th anniversary of the kosen-rufu movement in America? What is our focus and action plan for raising these young lions? The Great Lakes Chapter leaders in Michigan share how they are uniting and winning in a chapter that covers half of Michigan's Upper Peninsula.
Responding to Our Mentor With Victory After Victory
by Teri Schmuker, James Friend, Nadia Mathieson
Great Lakes Chapter Leaders, Michigan
Great Lakes is the largest of the six chapters in Michigan Region. It is surrounded by three of the five Great Lakes. As you can imagine, we cannot easily have face-to-face meetings as a chapter, let alone hold leaders meetings. Communication, prayer and the SGI-USA publications have helped us surmount our unique challenges, as well as connect the members to SGI President Ikeda.
On Nov. 7 of last year, Michigan Region organized a group–region leaders encouragement call to officially kick off the November General Discussion Meeting campaign. The strong, sincere determination expressed by the region leaders inspired our chapter team to work with the district leaders to personally reach out to and invite each member to their local discussion meeting.
As a result, 92 people attended the November General Meetings across our chapter, a 73 percent increase from 2018! We were elated to report this victory to President Ikeda, because it showed our advancement in member care.
Everything was based on the oneness of mentor and disciple, and our desire to help the members connect with Sensei and show actual proof. We also took the following practical steps:
1) Uniting with our district leaders, we established times to chant Nam-myoho-renge-kyo every morning and evening together from our respective homes, praying for our chapter attendance goal and determining to encourage as many members as possible through widespread home visits and effective communication. We also chanted that every member would be inspired after attending their November discussion meeting.
2) For a year before the November General Meetings, all Great Lakes group through chapter leaders had been meeting via teleconference on the last Saturday of every month for a Q&A to discuss how to advance kosen-rufu in our specific area and to receive encouragement so that we could be in rhythm with the SGI-USA's visions and goals. With support from the region leaders, we developed clear lines of communication throughout all levels of our organization. The region team immediately embraced and supported our every effort, pushed us to expand our capacity beyond what we'd ever imagined and showed us how to create lightning speed, clear and thorough line communication and unity. This was crucial to our success in November.
3) We communicated daily as a chapter team and supported the efforts of every district leader by encouraging them to create small group meetings to engage in member care. When we found out a member did not make it to the meeting that they were confirmed for, we began chanting for that person to have the opportunity to attend another one and identified ways of supporting them to be able to do so.
4) We made full use of the confirmation tools on the SGI-USA online portal account and kept track of people who were confirmed but had not yet attended a meeting. Through these daily efforts, we not only helped many people attend their district meetings, but also captured accurate attendance to measure our progress.
Despite our geographical and climate challenges, we now know how to win based on prayer, unity and the oneness of mentor and disciple. We are looking forward to creating many more victories with Sensei throughout the Year of Advancement and Capable People.
President Ikeda encourages us: "When a single champion for kosen-rufu stands up, the fire of their spirit ignites the hearts of one person after another until it brightly illuminates the darkness with its glow. Stand up as an individual! Everything starts from just one person; everything starts from oneself" (February 2014 Living Buddhism, p. 37). As we commemorate 60 years of kosen-rufu in America on Oct. 2, Great Lakes Chapter is determined to respond to Sensei with victory after victory!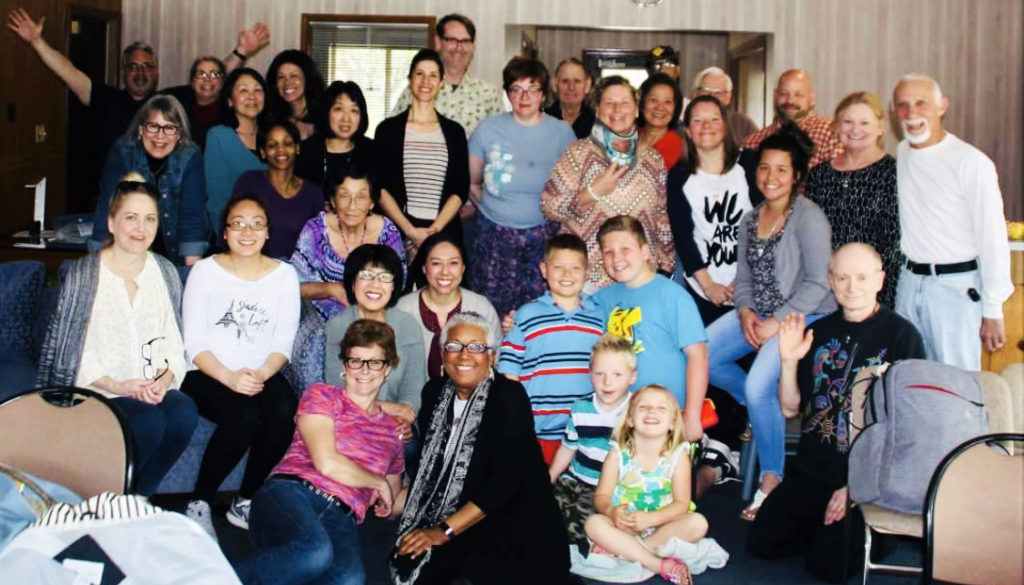 Thoughts From the Front Lines
Esther Castain (Mackinac District women's leader): Through steady efforts at one-to-one dialogue, we are building trusting relationships in which members can express themselves freely. When a person feels listened to, they realize they don't need to be ashamed of anything they're going through and they're no longer alone. Actively listening, offering encouragement and chanting Nam-myoho-renge-kyo for each member and their family and friends have made a big difference. By the end of 2019, we were spontaneously sharing our yearslong struggles and breakthroughs with clear resolve toward 2020!
In good weather, we drive on average one to two hours to get to meetings or visit members. For some, their drive is longer; and our community center, in Detroit, is a three- to five-hour drive. In our six months of winter, snow can fall as early as October, the roads can be too icy to drive and power outages can last from hours to days. And not everyone has internet access at home or a smartphone. Beyond these external challenges, the personal and spiritual challenge, I feel, has been recognizing that no matter what difficulty arises, it's all part of the story of kosen-rufu we are writing throughout northern Michigan. I, too, am able to confront these challenges when I remember that it's about polishing myself, so I can shine through the distance to reach people's hearts.
Leslie Shimizu (Kalamazoo District women's leader): Since the 50,000 Lions of Justice Festival (September 2018), the number of youth division members in our district has increased from six to 10. The key to our growth has been the united chanting of Nam-myoho-renge kyo by all the members of our district, ongoing study, appointing group leaders and member care. We also chant an hour together once a week and for 30 minutes before all of our district activities.
Like other districts in Great Lakes Chapter, the geography of our district stretches 63 miles from east to west and 55 miles from north to south, with the city of Kalamazoo being in the middle. But based on the "Determination" chapter of The Human Revolution, we're determined to expand and grow! We are all striving to be trusted members of our community, through our jobs, volunteer efforts and our district's community outreach. We have participated in the annual back-to-school student festival on the campus of Western Michigan University, held an intro meeting at the public library and had a booth at the Pride festival. As a result, we have had more than 31 guests attend our activities in 2019, and two inactive members found us through our Facebook page. In addition, one youth joined last year and another has already filled out an application to receive the Gohonzon this month!
You are reading {{ meterCount }} of {{ meterMax }} free premium articles
Subscribe for unlimited access