In a historic first, SGI discussion meetings were conducted in the country of Kazakhstan. In this sparsely populated nation, which shares borders with China and Russia, members determined to finally meet despite having to travel long distances.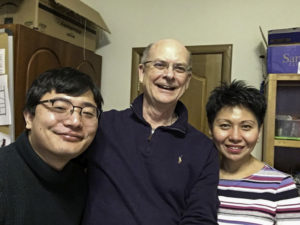 The first gathering was held in celebration of Soka Gakkai Day last May 3 with five SGI members in the capital, Nur-Sultan. The second discussion meeting was held on Jan. 18 this year in the home of longtime SGI-USA member Michael Curtis, who lives in Almaty, Kazakhstan, as part of his work for the U.S. Agency for International Development. With the nearest SGI organization almost a thousand miles away, Mr. Curtis resolved together with other members living in Kazakhstan to "sow the seeds of peace through the Mystic Law in this land, which has experienced great hardship and suffering."
At the first district meeting, participants chanted Nam-myoho-renge-kyo together, their voices emanating out toward the Steppes of Central Asia. The second meeting included a guest from the community, who began chanting every day.
The members named their new group Silk Road District, since Kazakhstan has a rich history as part of the ancient Silk Road upon which Buddhism originally spread.
You are reading {{ meterCount }} of {{ meterMax }} free premium articles
Subscribe for unlimited access