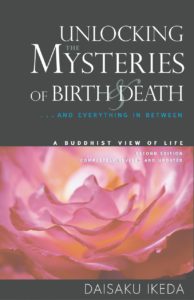 Ikeda Sensei's celebrated work Unlocking the Mysteries of Birth & Death is now available as an audiobook. The book explores the meaning of life and death, and provides invaluable insights from the perspective of Nichiren Buddhism. Whether one is new to Buddhism or a longtime practitioner, Sensei's clear and practical explanations in this work can deepen anyone's understanding of Buddhist philosophy and appreciation for their own life.
Also available as audiobooks are volumes 1–8 of The New Human Revolution series. Volume 9 is slated for release this month. The New Human Revolution is Sensei's novelized account of the development of the Soka Gakkai and SGI's movement for kosen-rufu under his leadership. It also serves as practical guidance on how to further expand our network of peace and justice in the present and the future.
Both titles are available at audible.com and other major audiobook sellers.
You are reading {{ meterCount }} of {{ meterMax }} free premium articles
Subscribe for unlimited access