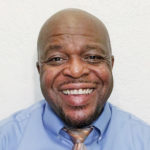 by Dwayne Wilson
Southern California North Zone Men's Leader
When I saw the video of George Floyd's murder, I was angry. As a Black man in America, I know what it feels like to be treated less than and have to deal with racial incidents.  I've been stopped by the police for just walking down the street or driving through certain neighborhoods, followed by security in stores, etc. I've also had to deal with the internal pain and frustration that those encounters entailed. But through it all, I was never one to give in to others' negative treatment or low expectations of me.
My Buddhist practice has enabled me to overcome every obstacle in my life regardless of the circumstances. However, this incident with George Floyd triggered anger in me that lingered. So, I chanted Nam-myoho-renge-kyo about how I was feeling and determined to create value.
I turned to Dr. Lawrence E. Carter's book A Baptist Preacher's Buddhist Teacher in which he discusses his interfaith journey with Ikeda Sensei, as a Baptist minister and dean of the Martin Luther King Jr. International Chapel at Morehouse College.
He writes:
I can say unequivocally that of all the spiritual and philosophical leaders I have met—many of them the 20th century's most revered—it is this Japanese lay Buddhist, still unknown to many outside of his native country, who has been the most impressive in terms of sincerity, learning, action, integrity, achievement and global vision. Daisaku Ikeda has captured my heart, my mind and my spirit in a way that I find difficult to describe—except to say that at last, after many years, I have found another mentor. (p. 129)
Incidentally, I received the Gohonzon as a student at Morehouse College in March 1988. Before that, I was one of Dean Carter's chapel assistants and considered becoming a minister. With Dr. Carter and the other assistants, we used to have lively dialogues about life and philosophy. That time at Morehouse with Dean Carter initiated my spiritual journey.
In his book, Dr. Carter speaks of his encounters with Martin Luther King Jr. and how King became his mentor in the late 1950s. One encounter was when King urged him to attend Morehouse College, King's alma mater. Another encounter was when Dean Carter attended a lecture in which King spoke of his "vision of equality" and why "the fight for freedom must be nonviolent."
He also writes about the rage and anger he felt when King was assassinated in 1968:
When a white assassin's bullet ended King's life, my heart was torn asunder with anger and hatred for whites everywhere, no matter who they were, because I felt they had not done enough to help him. My hatred was blind and indiscriminate. All the while, I knew that my mentor [King] would have been ashamed of me and my bitter heart. Indeed, for one year, even as a disciple of King's nonviolent philosophy, I fell short. Until at last, I prayed prayers strong enough to change my destiny, prayers mighty enough to pry my heart free from the rage that had seized me. (p. 65)
Dr. Carter goes on to write about Sensei:
After World War II, he could have been angry at the Japanese government for the destruction of his family home, the loss of his childhood, the death of his brother and the difficulties he faced in pursuing his education in that war-ravaged country. He could have become bitter toward the Americans for their use of nuclear bombs in Hiroshima and Nagasaki … or suspicious of the occupying forces throughout Japan. Instead, this became fuel for Ikeda's passionate commitment to peace. (pp. 65–66)
Later, he describes how having been dean of the Martin Luther King Jr. International Chapel for a number of years, he became exhausted. He felt that even though he was expending all his efforts into realizing King's message, very few were listening. He seriously considered leaving Morehouse College.
Around this time, a professor at a neighboring college, who was an SGI-USA member, organized a meeting with Dean Carter and SGI-USA leaders. That discussion blossomed into a relationship between Dr. Carter and Sensei.
Even though he's a Baptist preacher, Dean Carter expressed that once he met Sensei and found another mentor, his doubt and uncertainty about realizing King's dream evaporated.
I feel that the mentor-and-disciple relationship is not just something we do in the SGI organization, but it can have a far-reaching effect on the people we encounter and transform our environment.
On a deeper level, we of the SGI are the successors to Dr. King's dream. Scanning through the faces of our SGI-USA Zoom meetings, I see people of all different backgrounds, ages and races fighting to make kosen-rufu a reality through our Buddhist practice—for ourselves and others.
So, my anger is transforming into a greater desire for kosen-rufu. And it is my determination even more to dedicate my life to the path of mentor and disciple, and change poison into medicine.
You are reading {{ meterCount }} of {{ meterMax }} free premium articles
Subscribe for unlimited access