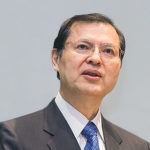 On August 6, which marked 75 years since the atomic bombing of Hiroshima, the Seikyo Shimbun published an interview with Keiko Ogura, director of Hiroshima Interpreters for Peace. In it, Ms. Ogura, a hibakusha[1] who was eight years old at the time of the bombing, shares that there have been two additional occasions in her life in which she has experienced similar feelings of fear and trepidation: the Fukushima nuclear power plant accident of March 2011 and the current COVID-19 coronavirus pandemic. She further stresses that the spirit of Hiroshima—to never stop fighting for peace—extends beyond abolishing nuclear weapons and encompasses the greater struggle against all that poses a threat to humanity's inviolable right to live. To that end, she calls on readers to take a fresh step forward.
A key reason for studying The New Human Revolution is to help us inherit a powerful commitment to peace, one rooted in a historical perspective in which we never forget what happened 75 years ago so we can truly open the way for a new age for humankind.
Volume 22 chronicles events taking place in 1975, the year that marked the 30th anniversary of the atomic bombings of Japan and the end of the war. With a strong determination to change the course of history and make the 21st century a "century of peace, of humanity, of victory, of glory; a century without war, a century of life,"[2] Shin'ichi Yamamoto travels extensively to Hawaii, Hiroshima and other places to encourage the members.
Leading up to the nationwide headquarters general meeting held in Hiroshima that November, he makes a number of bold advances for the sake of peace. During an 18-month period starting in May 1974, he had made three visits to China and two to the Soviet Union in an effort to build bridges of friendship between Japan and these countries through peace, cultural and educational exchange. The Soka Gakkai International (SGI) had also been established on January 26, 1975. Addressing the youth members in Hiroshima, he shares the intent behind these actions: "To me, visiting Hiroshima is inseparable from the struggle for peace. That's part of my pledge as a disciple to my mentor, Josei Toda."[3]
What was driving Shin'ichi was a burning desire to respond to his mentor, second Soka Gakkai President Josei Toda, who had engaged in a wholehearted struggle for peace until the very last moment of his life. President Toda had in fact collapsed on the morning of a scheduled guidance tour to Hiroshima in November 1957 and was not able to make the trip. Just a few months before, on September 8, he had made his historic Declaration Calling for the Abolition of Nuclear Weapons, and that November he had been planning to address a gathering at the Hiroshima Peace Memorial Hall (what is now the Hiroshima Peace Memorial Museum) to stir up a fresh groundswell for peace. However, President Toda, who had been ill and growing weaker by the day, collapsed on the morning of his departure. That is why Shin'ichi— knowing full well his mentor's strong feelings for Hiroshima—felt he could not set foot in the region without having achieved a solid track record of his own actions for peace.
As described in the "Currents" chapter, the members in Hiroshima "felt that the spirit of Hiroshima was the spirit of peace, and that that was synonymous with the spirit of the Soka Gakkai. Therefore, they considered it their mission to create a current toward global peace."[4]
Ikeda Sensei chose August 6, the date on which the atomic bomb was dropped on Hiroshima, to both start and finish writing The New Human Revolution. I believe this is an expression of his vow as a disciple to inherit his mentor's fervent wish for peace and to pass it down to younger generations, ensuring that his mentor's spirit endures far into the future.
Global leaders have recognized Sensei's efforts because he has consistently proven himself to be a pioneer of taking real action for peace. Ultimately, our concrete actions are what matter the most. The path to peace does not exist somewhere far off in the distance. Just as Shin'ichi is convinced that "the way to light a flame for peace in our turbulent world is to encounter others on a human level,"[5] we too can start by forming bonds of friendship with the people right in front of us, in our respective communities and places of work.
Seeking Spirit
This August marks 73 years since Sensei first met President Toda, an encounter that would change the course of his life. Since then, he has continued to widely communicate the spirit and achievements of his mentor. In "A New Century," we find the following:
By making our mentor's achievements widely known to the public, we shed light on the starting point of our movement, because the aims of our movement are embodied in our mentor's teachings and life.[6]
In this way, as long as the disciples return to their mentor's teachings and keep learning from the way he has lived his life, they will never lose sight of the correct path to take. In the same chapter, Shin'ichi shares his feelings toward his mentor with the Japanese writer Yasushi Inoue:
Josei Toda continues to live in my heart, where he sometimes keeps silent watch on what I do and sometimes wordlessly gives me counsel. Our lives have coalesced. We breathe together.[7]
In response, Mr. Inoue remarks that the mentor-disciple relationship seems to be a particular kind of human bond that does not depend on whether the individuals have actually met in person.
According to the Lotus Sutra, "Those persons who had heard the Law dwelled here and there in various buddha lands, constantly reborn in company with their teachers" (The Lotus Sutra and Its Opening and Closing Sutras, p. 178). In Buddhism, the mentors and disciples share eternal bonds throughout the three existences of past, present and future. They are inseparable. What matters, then, is the seeking spirit of the disciples, the extent to which the disciples keep their mentor's spirit burning brightly in their hearts as they forge ahead together toward a shared cause.
When members of the youth division ask Shin'ichi to tell them about President Toda, whom they had never met, Shin'ichi encourages them to actively talk about him amongst themselves:
Almost all of Mr. Toda's guidance is already published, and I've spoken to you about him many times before. I think a better idea would be for all of you to think about Mr. Toda's teachings yourselves and come up with your own ideas about him and the spirit of the oneness of mentor and disciple of the Soka Gakkai.[8]
I cannot help but feel that this significant year—marking the 60th anniversary of Sensei's inauguration as third Soka Gakkai president—is the time for those who consider themselves his disciples to make even greater efforts to learn from their mentor and share his heart with others.
Toward the World Youth General Meeting
In "The Treasure of Life" chapter, Shin'ichi elaborates on the fundamental mission of religion, stressing that the role of the Soka Gakkai in a time of great change and turmoil is "to provide each individual with a source of inner vitality and instill in each person the ability to help redirect society toward a stable, sound and positive course."[9] The role of the Soka Gakkai in helping steer society on a sure path forward has never been more relevant than today, considering the extent to which anxiety has become the prevailing state of the world in the face of the ongoing pandemic and a series of extreme weather events.
There may be times when we want nothing more than to run away from the task in front of us. At such moments, let us remember: "The spirit of Nichiren Daishonin's Buddhism is to take it upon ourselves to strive earnestly to solve the major issues facing society,"[10] doing so from our unique perspective as Buddhists; that as long as we keep rising to the challenges before us, we are absolutely opening the way forward to a hopeful future.
Aiming to celebrate the 60th anniversary of October 2, Soka Gakkai World Peace Day, with the most robust solidarity of youth the world has ever seen, members of the youth division will be holding a World Youth General Meeting online. Toward this date, they are sincerely striving to reach out to others and expand their circles of friendship, even amid the COVID-19 crisis and the various hardships they each face.
In the "High Seas" chapter, we find that President Toda often used to tell Shin'ichi:
It will probably take 200 years for society to appreciate the real value of the Soka Gakkai. We are an organization unprecedented in all of human history, which is why no one grasps how wonderful we are.[11]
I am confident that the upcoming World Youth General Meeting—a historic ceremony of the shared vow of mentor and disciple—will be a powerful step in creating a new history for worldwide kosen-rufu as we advance toward the Soka Gakkai's centennial in 2030, and beyond, toward our 200th anniversary. To that end, let's continue to inspire and encourage the youthful successors of our movement and together build a grand solidarity of youth in our local communities.
Translated from the August 26, 2020, issue of the Seikyo Shimbun, the Soka Gakkai's daily newspaper.
---
Summary of Contents
A New Century
Shin'ichi Yamamoto's dialogues with novelist Yasushi Inoue and businessman and industrialist Konosuke Matsushita are serialized and then published in book form.
Currents
The Blue Hawaii Convention is held in Hawaii in conjunction with the U.S. Nationwide General Meeting, with many distinguished guests, including the governor. The Buddhist values of tolerance and compassion meet the aloha spirit.
High Seas
Shin'ichi encourages the members of the Hato-kai (High Seas Group) who work at sea for extended periods of time. He also focuses on encouraging young women including university students and members of the Seishun-kai (Spring of Youth Group).
The Treasure of Life
Shin'ichi attends a doctors group general meeting. He also attends a Soka Gakkai headquarters general meeting in Hiroshima and visits nearby Kure for the first time.
This book is available at https://bookstore.sgi-usa.org.
You are reading {{ meterCount }} of {{ meterMax }} free premium articles
Subscribe for unlimited access