Commemorating May 3, Soka Gakkai Day, the City and County of Denver proclaimed May 3, 2020, Dr. Daisaku Ikeda Day. Mayor Michael Hancock said that Ikeda Sensei has promoted "a vision of hope, freedom and democracy, and a powerful sense of hope for our shared global future."
Additional locations that honored Sensei with proclamations on May 3 include the City of Phoenix and County of Los Angeles.
During Sensei's trip to Denver in 1996, he received an honorary doctorate of education—his first from an American institute of higher learning—from the University of Denver, on June 8. The next day, he joined members from the Rocky Mountain states to attend the Rocky Mountain Joint Territory Cherry Blossom General Meeting, where he shared unforgettable guidance.
"Human beings are raised by human beings," Sensei said. "Only people can help other people become happy" (My Dear Friends in America, third edition, p. 436).
Adapted from the May 6 Seikyo Shimbun, the Soka Gakkai's daily newspaper.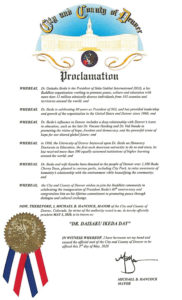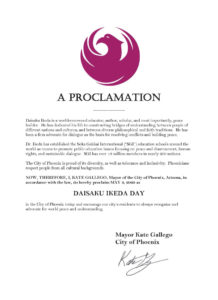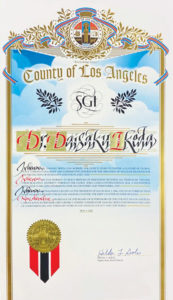 You are reading {{ meterCount }} of {{ meterMax }} free premium articles
Subscribe for unlimited access