The new exhibition includes her visit to Soka University in Japan to receive an honorary doctorate.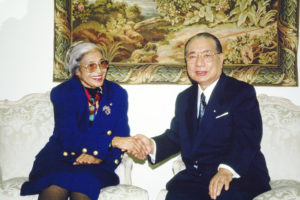 A new major exhibition on the life of Rosa Parks at the Library of Congress (LOC) in Washington, D. C., features her May 1994 visit to Soka University in Japan to receive an honorary doctorate.
The panel, which features four photos from the conferral ceremony, describes how Mrs. Parks was introduced to the Buddhist philosopher Daisaku Ikeda, also the president of Soka University, on the American campus in Calabasas, California.
The panel also describes how she accepted his May 1994 invitation to Soka University in Japan to receive an honorary degree from the university he founded: "At one event, thousands of Soka University students stood up, joined hands and sang 'We Shall Overcome' in English. Rosa was moved to tears."
The exhibition, titled "Rosa Parks: In Her Own Words," debuted on Dec. 5 at the LOC's Jefferson Building, featuring materials that intimately document her life of activism beyond the pivotal day in December 1955, when she was arrested for refusing to cede her seat to a white passenger on a bus in Montgomery, Alabama.
The exhibition coincided with the 64th anniversary of the start of the Montgomery Bus Boycott, the first large-scale demonstration against segregation in the U.S., which was prompted by Mrs. Parks' act of protest. But a representative of the LOC said the exhibition had been in the works after a collection of materials related to Rosa Parks' life was gifted to the library by the Howard G. Buffett Foundation.
The exhibition is a companion piece to the LOC's new book about Rosa Parks' life, Rosa Parks: In Her Own Words, published on Dec. 15.
In the "Vow" chapter of volume 30 of The New Human Revolution, President Ikeda describes how, during his January 1993 meeting with Mrs. Parks, she shared that she had been asked to be part of a book project in which noted figures selected a photograph that had influenced their lives most deeply.
"At first, I thought I would select a photograph from the time of the Bus Boycott, but I changed my mind, realizing that my meeting with you, President Ikeda, is sure to be the most impactful event of my life. I would like to embark on a journey with you for world peace. If you agree, I would like to include a photograph of our meeting together today as my contribution to the project" (Aug. 3, 2018, World Tribune insert, p. 7).
True to her word, Mrs. Parks featured the photo of the two peacemakers shaking hands, accompanied by these words: "This photograph is about the future, and I can't think of a more important moment in my life."
Mrs. Parks goes on to describe how the photo emphasizes two people who respect the differences between their cultures, and that their meeting could serve as a model for anyone. "In working toward world peace, one begins with self. The picture with Dr. Ikeda and me is important to human rights.
I'm just another person who was considered a troublemaker instead of a peacemaker. This photograph is another opportunity for world peace" (Talking Pictures: People Speak About the Photographs That Speak to Them, p. 198).
For more on the exhibition, visit www.loc.gov.
You are reading {{ meterCount }} of {{ meterMax }} free premium articles
Subscribe for unlimited access