With "home visits" and "personal encouragement" as the bywords for the SGI-USA in 2019, this new World Tribune series features SGI-USA leaders who discuss their personal experiences of being home visited, home visiting others and the lessons they've learned.
by Naoko Leslie
SGI-USA Women's Leader
Recently I visited a district women's leader, who also invited her vice co-leader to join us. I was touched by their sincere unity, mutual support and determination to become a Soka Victory District filled with joy.
Through dialogue, we came to the conclusion that winning in the morning with powerful prayer is key. Second is to have expansive personal and organizational goals, and to take action. This reminded me of SGI President Ikeda's guidance, which we read together: "Many people chant [Nam-myoho-renge-kyo] with the thought that their prayer is simply too big to be realized, doubting the power of the Gohonzon. Since they are chanting with a negative attitude, of course their wishes won't be realized . . . The secret to drawing forth the power of the Gohonzon is to chant with firm, pure-hearted determination and appreciation" (The New Human Revolution, vol. 12, pp. 161–62).
What moved me most in this visit was how strong the two of them have grown. I left feeling absolutely confident that they will win.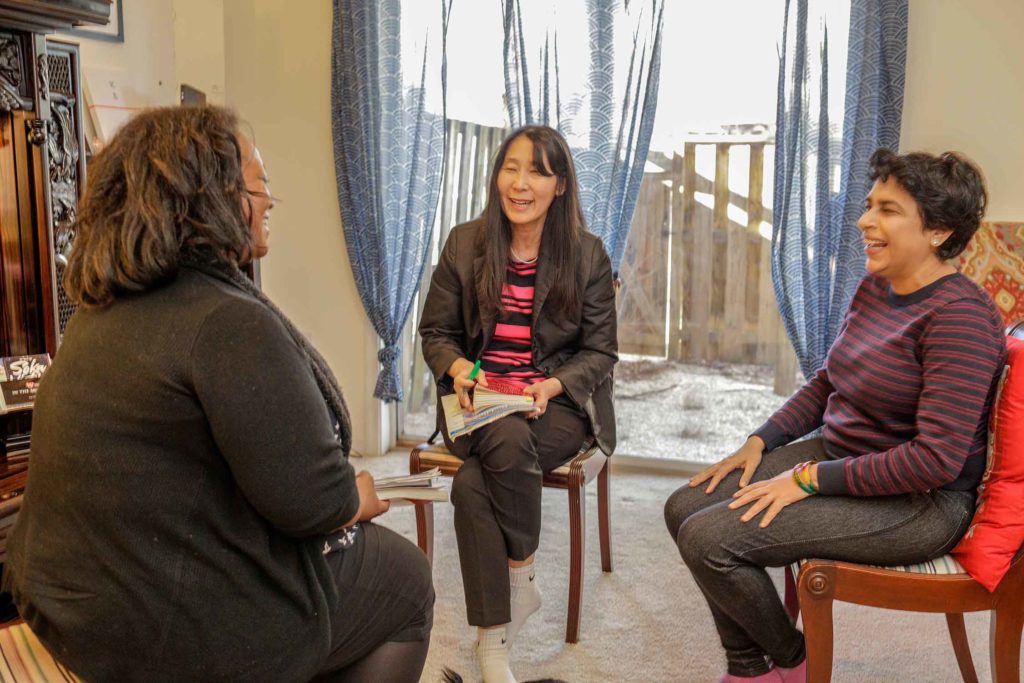 Q: What are three things you keep in mind as you prepare for home visits?
First, I chant. Sensei writes: "Pray that instead of devils or negative, destructive forces infiltrating your being, Brahma, Shakra and the gods of the sun and the moon—positive, protective forces of the universe—will enter your life! Pray that they will enter the lives of all members in your region and the entire membership of the SGI, as well. If you do this, your strength will multiply a hundredfold, a thousandfold" (Jan. 10, 2014, World Tribune, p. 5).
Second, I listen. Being heard can alleviate the heaviness in a person's heart that they have kept to themselves. And when I'm listening, I try to grasp the root of their suffering, so that I can provide the best encouragement from President Ikeda.
Third, I bring encouragement from Sensei. The new book Guidelines for Kosen-rufu, Victory, and Happiness is wonderful. I also keep guidance from my mentor that helped me break through specific struggles in my life.
Q: How did you learn the Soka Gakkai spirit to treasure the person in front of you?
When I was inactive and rebellious toward the practice early on in my life, it was my seniors in faith who taught me the Soka Gakkai spirit to never give up on anyone. Even though I never opened the door for them, they kept visiting me and left letters for me. They patiently endured everything and continued to warmly encourage me until I stood up. And when I saw them years later, they still remembered me and asked how I was.
Q: What are some best practices?
Sensei has taught us that it all comes down to having respect for others. Each person has a Buddha nature, no matter what life condition they're in now. Even in despair, they have sunshine in their lives. Our role is to help them realize that they have this powerful Buddha nature. And our battle is to continue encouraging that person until they break through; just visiting them once is not enough.
I also believe that doing home visits together with others is how we can raise our successors. When I went on my first home visit with my senior in faith, I didn't understand what I was getting into. But joining them taught me how joyful it was to do home visits, and eventually I was able to do them on my own. This changed everything in my practice and life.
You are reading {{ meterCount }} of {{ meterMax }} free premium articles
Subscribe for unlimited access