by Olivia Saito
SGI-USA Youth Leader
From the bottom of my heart, thank you for everything you do to foster youthful successors! I also appreciate the opportunity to have represented the SGI-USA during the 2019 SGI Youth Training Course.
I was among 18 SGI-USA youth representatives from the continental United States, as well as Guam and St. Martin, who attended the training course from August 27 through September 3. We were among 270 participants from 65 countries and territories that gathered together to seek from our mentor, SGI President Ikeda.
This training course marked the departure toward May 3, 2020, the 60th anniversary of President Ikeda's inauguration as the third Soka Gakkai President, as well as November 18, 2020, the 90th anniversary of the Soka Gakkai's founding.
Throughout the weeklong training course, we received encouragement from Soka Gakkai and SGI leaders, and attended many activities, including the 42nd Soka Gakkai Headquarters Leaders Meeting of the New Era in Kanagawa, Japan; a gongyo ceremony at the Hall of the Great Vow for Kosen-rufu; a study lecture by SGI Study Department Leader Masaaki Morinaka; a Q&A session with Soka Gakkai President Minoru Harada; a visit to Soka University and Makiguchi Memorial Hall; and exchange meetings throughout Kanagawa Prefecture.
During the training course, we learned about President Ikeda's recent travels and were happy to hear that President and Mrs. Ikeda are in good health and high spirits. We received almost daily messages from President Ikeda, who shared that he was keenly watching over our training course.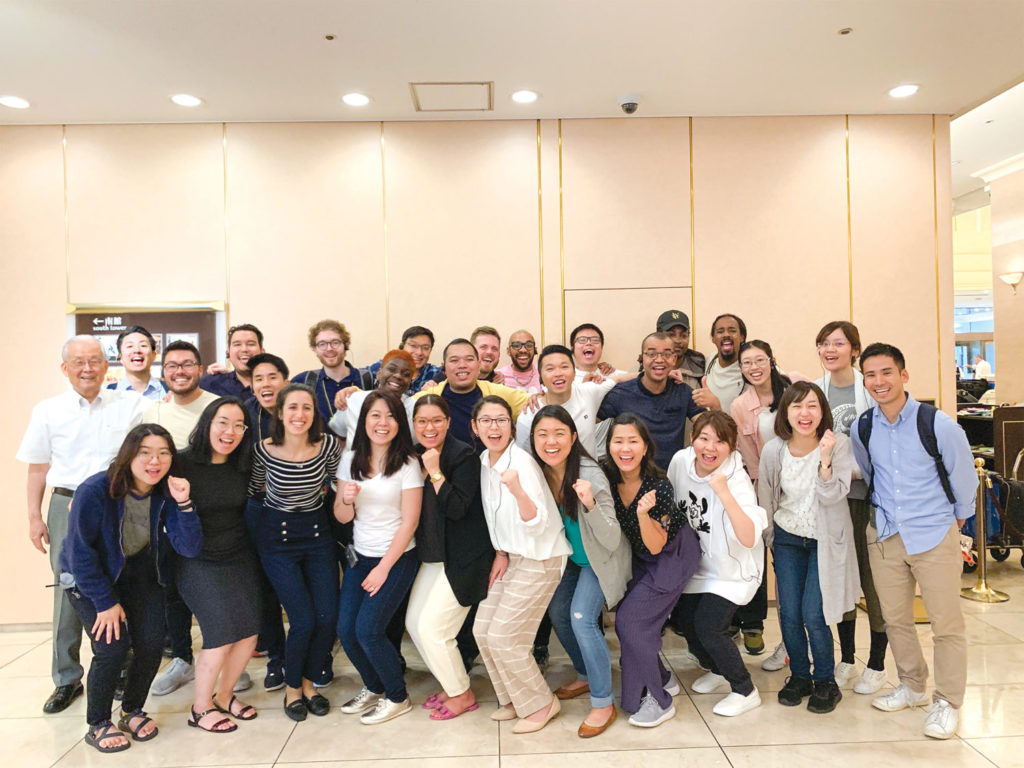 "As long as there is a core of youth—no, even a single true disciple—we will achieve kosen-rufu."
At the opening ceremony, SGI General Director Yoshitaka Oba remarked how wonderfully kosen-rufu is advancing around the world. He shared three important guidelines that he asked the youth leaders to keep in mind toward the 90th anniversary:
1) Become true disciples.
2) Become Bodhisattvas of the Earth who will invariably accomplish kosen-rufu.
3) Treasure each person.
The first point, "Become good disciples," was a central theme throughout the training course. Mr. Oba elaborated on this point, citing this passage from The Writings of Nichiren Daishonin: "If a teacher has a good disciple, both will gain the fruit of Buddhahood, but if a teacher fosters a bad disciple, both will fall into hell. If teacher and disciple are of different minds, they will never accomplish anything" ("Flowering and Bearing Grain," WND-1, 909). President Ikeda's greatest joy is that he has devoted his life to responding to and fulfilling the dreams of his mentor, second Soka Gakkai President Josei Toda.
President Ikeda writes about this point in volume 17 of The New Human Revolution. (He appears in the novel as Shin'ichi Yamamoto.)
In his final years, [Josei] Toda said to me: "Shin'ichi, you've achieved everything I asked. You even took seriously things I said half-jokingly and brought them to fruition. I don't trust people who are all talk. What matters are the actions one takes. With you here, I know I have nothing to worry about."
Those words are my greatest source of pride. They describe what it means to be a genuine disciple. I am always talking to Mr. Toda in my heart. I am always asking myself what he would do in any given situation, what he would say to me if he saw what I was doing. A mentor is a role model for your entire life. (pp. 16–17)
Mr. Oba asked each of us to enthusiastically take the lead in the forefront of the organization and create a new age of Soka as disciples who are "bluer than the indigo plant itself."[1]
In the final installment of "Vow," the concluding chapter of The New Human Revolution, volume 30, President Ikeda writes:
I will never forget what Mr. Toda said at a meeting of the young men's division Suiko-kai:[2] "As long as there is a core of youth—no, even a single true disciple—we will achieve kosen-rufu."
Who has been that one disciple? Who has given his life to spreading Nichiren Buddhism around the world, just as Mr. Toda taught? I am proud and confident to say that I am that one disciple. (November 9, 2018, World Tribune insert, p. 8)
In response to a question about how to live with this same spirit as President Ikeda and to be a "true disciple," Soka Gakkai President Harada shared that being a disciple is about your own awareness, not about what others tell you. Through reading The New Human Revolution, we are learning the Soka Gakkai spirit and President Ikeda's philosophy of peace and humanism. When we acknowledge that we are disciples and put the guidance from The New Human Revolution into action, this means that we are embodying the spirit of a true disciple. Genuine disciples promote and uphold the mentor's teachings and put them into action.
As the last generation of members who can receive direct guidance from our mentor, the advancement of worldwide kosen-rufu depends on how much we can engrave President Ikeda's guidance from The New Human Revolution into our own lives and take action.
The Soka Gakkai is the great ship that leads to the shore of happiness.
At the 42nd Soka Gakkai Headquarters Leaders Meeting of the New Era of Worldwide Kosen-rufu, which was held in conjunction with the Nationwide Men's Division Leaders Meeting, President Ikeda shared in his message that the compass of Nichiren Buddhism enables one to navigate the rough seas of life's sufferings (see September 20, 2019, World Tribune, pp. 2–3).
Nichiren Daishonin revealed to us the practice of chanting Nam-myoho-renge-kyo and teaching others about this Buddhism. This practice for ourselves and others enables us to overcome "every storm of karma and every buffeting wave of adversity in society to achieve a state of happiness."
Nichiren's spirit can be characterized by his boundless compassion and warm concern for his disciples, taking on their sufferings as his own. And this is the spirit that pervades the wonderful realm of the Soka Gakkai, "a realm of human harmony that can only be described as miraculous."
As the meeting came to a close, we were enthusiastically encouraged to open the new dawn toward the 60th anniversary of President Ikeda's inauguration and the 90th anniversary of the Soka Gakkai's founding with great propagation to "beckon even more fellow Bodhisattvas of the Earth to board the great ship of the Soka Gakkai."
Let us banish misery from the face of the earth!
Through listening to the questions that were asked during the training course, it was clear that youth around the world are grappling with how to transform their societies through the power of the Mystic Law.
In his opening message to the training course participants, Sensei reminded us of his mentor's desire to "banish misery from the face of the Earth" and "empower people to triumphantly forge open the path to peace and happiness for all." He further stated:
You will never fail to summon forth the same courage and wisdom as your mentor if you are one at heart with him and chant daimoku [Nam-myoho-renge-kyo] as you battle to the very end. That's what I believed as I raced ahead at the forefront of kosen-rufu to achieve breakthroughs, thus driving further expansion with my fellow members in those early years. This path shared by mentor and disciple was a small, single trail at first that escaped notice by most. But then it expanded, to reach every corner of the planet as it evolved into a great avenue for kosen-rufu worldwide upon which Soka Gakkai members everywhere may proudly stride onward.
President Harada reiterated this point in response to a question that an SGI-USA youth asked about the growing division in American society. He shared that it is precisely because of this turmoil in society that our SGI movement will take on even more significance. Now it is even more crucial to plant the seeds of the Mystic Law in each person in society. It may take time, he said, but our efforts will blossom. With conviction, he said that our grassroots movement of wholeheartedly encouraging the person in front of us will become significant as time goes by. Now is the golden opportunity to broadly share Nichiren Daishonin's Buddhism of the Sun in society.
Furthermore, he encouraged the youth leaders, as disciples, to have the resolve and determination to make our mentor's words a reality.
As the youth leaders of the world, we renewed our vow to actualize President Ikeda's guidance in The New Human Revolution and engage more than ever in efforts to share this Buddhism with people in our communities. Together, we will celebrate the significant milestones next year with an ever-growing network of bodhisattvas here in the U.S. and usher in a new dawn of peace!
References
This allegory of the indigo plant is often used to indicate the disciple growing to surpass the mentor or to describe how deepening one's practice leads to strengthening one's faith. ↩︎
Suiko-kai (Water Margin Group): A young men's division training group formed by second Soka Gakkai President Josei Toda. It was named after the ancient Chinese epic novel The Water Margin, which the group studied. ↩︎
You are reading {{ meterCount }} of {{ meterMax }} free premium articles
Subscribe for unlimited access