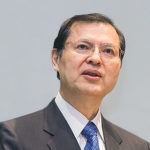 "The Flower of Culture" chapter of volume 7 of The New Human Revolution details the events that took place in November 1962 when the Soka Gakkai reached a membership of three million households in Japan and thus realized the goal entrusted to it by second Soka Gakkai President Josei Toda.
This achievement can be attributed to Shin'ichi Yamamoto's vow to make his mentor's will his own, as well as the single-minded resolve and all-out effort with which he engaged in the task. In fact, no sooner is the goal achieved than Shin'ichi determines: "My next goal is six million households. Sensei! Please watch me and see."[1] This new target can be said to have arisen from a profound awareness of his mission and sense of responsibility toward kosen-rufu.
In volume 30, the final volume of The New Human Revolution, SGI President Ikeda declares: "The great undertaking of kosen-rufu cannot be accomplished in a single lifetime."[2] It is something that can only be achieved when the mentor's spirit is passed on to the disciples of future generations.
Shin'ichi's thoughts and feelings toward these youthful successors are also described in volume 7. He stresses that for the eternal flow of Buddhism to be guaranteed, the young people of each successive generation need to come up with their own most effective means of spreading its teachings and ideals among their contemporaries. To that end, he attends sports meets and speech contests organized by the youth division, and at one such speech contest, he addresses the participants:
Kosen-rufu must be achieved through the efforts of the youth. Therefore, I hope that you, my young friends of the youth division, will seek to gain … unshakable conviction that [Nichiren] Daishonin's Buddhism is absolute.[3]
Walking the path of mentor and disciple does not mean simply following our mentor. Rather, it means that the disciples completely make the mentor's vow their own as they take action toward achieving that shared undertaking. In other words, fulfilling the mentor's vow is not up to someone else: Each of us as individuals must take full responsibility for its realization. Let us engrave in our hearts that the path of mentor and disciple comes alive only when the disciples inherit such a "stand-alone spirit."
The Arrival of Spring in the Annals of Kosen-rufu
The "Fresh Growth" and "Early Spring" chapters detail Shin'ichi's second global tour, conducted in January 1963. Two years had passed since he first visited countries and territories in Europe and Asia, and three since his first visit to the United States. During this second trip, he is determined to lay the groundwork for the development of worldwide kosen-rufu ten, thirty or even one hundred years ahead. Shin'ichi and three other delegations, each comprising leaders from Japan who are assigned to different regions, travel concurrently to support and give guidance to the overseas members.
Shin'ichi bases his guidance on this key perspective as he encourages the members on various matters, instilling in them the basics of faith:
The spread of the Daishonin's Buddhism certainly could not be achieved through a single standard approach. It would be crucial to deeply understand and appreciate the character, culture and [individual] qualities of each country, and to find an approach that created something of value in each place.[4]
For example, with regard to propagation, he says:
Introducing others to the Daishonin's Buddhism is a most noble act of compassion. It is to share with others, based on a sincere prayer for their happiness, the supreme teaching and the supreme way of life that we embrace … Propagation begins with the inner struggle to defeat one's cowardice or inner weakness.[5]
He also emphasizes the importance of uniting behind a single purpose when promoting Soka Gakkai activities, and stresses that faith must always be based on the Law. The purpose of studying Nichiren Buddhism is another of the topics he addresses:
While correct faith does bring tremendous benefit, it is also fraught with obstacles and difficulties. Unless you have a solid grounding in study, you'll start to have doubts when problems arise.[6]
When Shin'ichi had attended discussion meetings overseas during his previous trip, some members had been so overwhelmed with life's sorrows and pains that they could not even state their questions without breaking down in tears. But during this second visit, the questions center for the most part on how to promote kosen-rufu and arise from a sense of responsibility to propagate the Mystic Law. Seeing this, Shin'ichi starts to sense the arrival of spring in the annals of kosen-rufu.
During this trip, he also pays close attention to the question of how to ensure the kosen-rufu movement is rooted in the community and society of each individual country. Feeling that becoming legal entities in each country is necessary, he starts to take concrete steps toward that end.
In addition to supporting and encouraging members, Shin'ichi also focuses his energy on fostering leaders in the various countries. Most of the overseas members at the time were Japanese nationals who had moved abroad due to work or marriage, but, as was the case in Germany, a growing number of Japanese youth members were deciding to move overseas based on their burning passion to fulfill their mission and contribute to worldwide kosen-rufu.
In Paris, Shin'ichi shares his views on global citizenship with the leaders who are accompanying him:
The most important qualities for a global citizen are to possess a philosophy that will lead people to happiness, to put that philosophy into practice and to win respect as a human being, while never succumbing to self-interest.[7]
He urges the Soka Gakkai members to live as global citizens in the truest sense.
Sowing the Seeds of Peace
Shin'ichi's overseas tour takes place at a time of intense Cold War tensions as just a few months had elapsed since the Cuban Missile Crisis of October 1962. For Shin'ichi, the crisis reconfirms the importance and relevance of his efforts to engage in dialogue with world leaders.
Around this time, he receives an invitation to meet with U.S. President John F. Kennedy. While considering what topics they should discuss, Shin'ichi decides to communicate the spirit of President Toda's 1957 Declaration Calling for the Abolition of Nuclear Weapons and to propose an early resumption of talks between U.S. and Soviet leaders, as well as the holding of a global summit where leaders from all nations could sit together and speak frankly about the issues of nuclear weapons and peace.
Although in the end the meeting with President Kennedy never came about, we see Shin'ichi engaging in extensive dialogue with various world leaders in the period that follows. He outlines two main reasons for such endeavors.
First, as a practitioner of Buddhism, he desires to "generate a tide toward peace for all humanity."[8] Second, he feels that it is "crucial to make people aware that the religion upheld by the Soka Gakkai is not one restricted to the Japanese, but is in fact a world religion intended for all humanity."[9] He is determined to meet with the leaders of other nations to help them "appreciate the true nature and goals of the Soka Gakkai in order to protect the members living in those countries."[10] For the realization of peace for all humanity and in order to avoid any misunderstanding in society that may cause suffering to the members, Shin'ichi pledges to be their "shield" and starts to engage in dialogue with world leaders.
After returning to Japan from his overseas trip, Shin'ichi attends the young men's division leaders meeting [in February] and calls on the youth:
No nation has the right to harm or exploit another for the sake of its own prosperity, gain or security. Nichiren Buddhism provides the guiding principles for preventing such injustices. Therefore, let us who embrace this Buddhism rise and sow the seeds of its philosophy of peace and happiness around the world, for the sake of humanity ten, twenty—no, a hundred—years hence![11]
Kosen-rufu is a most noble undertaking of enriching humanity's spirituality and elevating the life state of all people to the fullest extent. Let us inherit Shin'ichi's spirit and expand the network of peace and happiness in the place where we are now.
Translated from the April 24, 2019, issue of the Seikyo Shimbun, the Soka Gakkai's daily newspaper.
---
Summary of Contents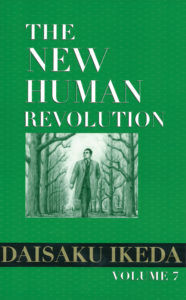 The Flower of Culture
The Soka Gakkai achieves a membership of three million households, a powerful network for peace. Shin'ichi Yamamoto receives an invitation to meet with U.S. President John F. Kennedy.
Fresh Growth
In January 1963, Shin'ichi embarks on an overseas tour around the world. The U.S.
organization expands to three chapters.
Early Spring
During a brief stopover in Taiwan on his way back to Japan from visiting countries and territories in Europe and Asia, Shin'ichi encourages the members there.
At the Helm
Local members offer support to their fellow members stranded on a chartered train halted by a severe snowstorm. In Taiwan, the members courageously face persecution.
This book is available at https://bookstore.sgi-usa.org.
You are reading {{ meterCount }} of {{ meterMax }} free premium articles
Subscribe for unlimited access