A noble gathering
like fragrant
white lilies,
for you are
pure-hearted
friends"[1]
—Ikeda Sensei
On June 10, 1951, second Soka Gakkai President Josei Toda established the women's division. At the inaugural meeting, he composed this poem as an expression of his gratitude for the members who arranged beautiful white lilies, their fragrance wafting throughout the room. The white lily has since become the symbol of the women's division.
In a recent essay to the women's division, Ikeda Sensei remarks: "Our dedicated women's division members have … weathered harsh winters to bloom triumphantly with refined dignity and fragrant good fortune."[2]
The peerless women of Soka illuminate the suffering of the times and our planet's future, changing all poison into medicine with their prayers.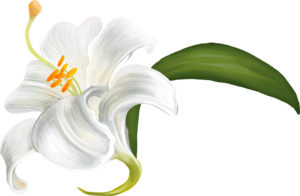 HEALING: The root and bulb of the white lily can be used as an herb to treat ailments.
DIVERSE: More than 100 species of lilies exist in the world.
FRAGRANT: While most lilies are odorless, the white lilies are known for their beautiful fragrance.
---
SGI-USA Women's Day
On February 27, 1990, Ikeda Sensei participated in the First SGI-USA Women's Division Meeting, held in Los Angeles during a pivotal time in America's kosen-rufu movement.
There, he gave the timeless encouragement "Buddhism is the Clear Mirror That Reflects Our Lives,"[3] where he emphasized the power of one's inner transformation to change all aspects of one's life.
Since then, February 27, which is also Mrs. Ikeda's birthday, has been named SGI-USA Women's Day.
Five Eternal Guidelines for the Women's Division[4]
1. Everything Begins With Prayer
2. Advancing Harmoniously With Our Families
3. Fostering Young Successors
4. Cherishing Our Communities and Societies
5. Joyfully Sharing Our Experiences in Faith
References
June 19, 2020, World Tribune, p. 2.
Ibid.
My Dear Friends in America, third edition, pp. 92–103.
Shine Like the Morning Sun, p. ix.
You are reading {{ meterCount }} of {{ meterMax }} free premium articles
Subscribe for unlimited access