While many national flags use motifs drawn from the sky—sun, moon, stars—the Soka Gakkai's tricolor flag symbolizes one world where all live in peace and harmony.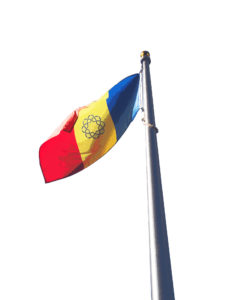 The red of the flag stands for victory, yellow for glory and blue for peace. SGI members everywhere have been advancing cheerfully, waving this tricolor flag. …
The path of kosen-rufu stretches into the eternal future. I hope that when each of you comes to play an active role on the grand stage of the world, the SGI flag will be waving all across the globe as a life-affirming symbol of hope and happiness, and that we will have created a peaceful world where war is outdated.[1]
Eight-petaled Lotus: Everyone was happy when they opened the Seikyo Shimbun on March 19, 1977. At the top of page 2 was the headline, "A New Logo for the Soka Gakkai," accompanied by an informative three-column article that included a drawing of an eight-petaled lotus design. The article stated: "This eight-petaled lotus design was voted to become the new logo of the Soka Gakkai at the recent Soka Gakkai Headquarters staff representatives conference.
"Reflecting Nichiren Daishonin's statement that 'The word, "eight" or opening reveals that the body and mind of the dragon girl are the Wonderful Law' (The Record of the Orally Transmitted Teachings, pp. 104–05), the eight-petaled design is a symbol indicating that the state of Buddhahood can open within each of us and that Nichiren Buddhism will continue to spread and embrace the world.
"The entire image also symbolizes the depth of human revolution and the boundless benefit in each Soka Gakkai member's life. Surely this new logo will be cherished by the members and become a symbol of hope for the Soka Gakkai to open a new chapter of kosen-rufu."[2]
You are reading {{ meterCount }} of {{ meterMax }} free premium articles
Subscribe for unlimited access